Ceduna Airport Caravan Park for On Site Camping and Accommodation. PO Box 283, Ceduna, South Australia 5690. For further information telephone or fax (08) 8625 2416. Email contact csfoster@bigpond.com.au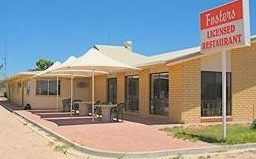 Ceduna's Airport Caravan Park is located 780 kilometres west of Adelaide, and 2000 kilometres to the east of Perth. Situated on the Eyre Highway's eastern approaches to Ceduna, the Airport Caravan Park facility is one of the quietest and most secure in Ceduna. With plenty of space and a swimming pool, it's also increasingly popular with families.
Owned and operated by Ceduna local, Steve Foster, Ceduna's Airport Caravan Park has had many years experience catering to large groups of cyclists, outback car rallies, bus tours, school groups, fishing groups and astronomers during the Ceduna Solar Eclipse of 2002. Some of Steve's interests also include fishing and 4 wheel driving, so we recommend you rely on his local knowledge and experience if you intend to pursue these activities.
Ceduna Airport Caravan Park - Facilities and Amenities
Within Ceduna Airport Caravan Park travellers will find a number of 4 berth en suite cabins, 3 Star Apartments, and 2 bedroom cabins accommodating up to 6 people. Over 260 camping and caravan sites are available, with over 160 of these being powered sites. As a venue for travellers this site is very hard to beat, both in terms of comfort and price.
Other facilities at Foster's Airport Caravan Park include a swimming pool, outdoor barbecue, LPG Gas bottle refilling, games room, a pleasant bar and a restaurant that can cater for weddings, parties or anything. Grassed areas are also available for the use of campers - definitely a welcome sight on South Australia's remote west coast. For another view of accommodation facilities check out the photo gallery of facilities.
Ceduna Airport Caravan Park & Cabin Accommodation Rates 1 October 2008
160 powered caravan and tent sites - $18 for 2 persons (extra $4 per child)
100 unpowered van and tent sites - $16 per 2 persons (extra $4 per child)
12 Budget Cabins (4 and 5 berth) - $40 per 2 persons
6 Studio Style Self contained Cabins - including bathrooms and toilet - $50 for 2
3 Self contained 3 Star detatched Apartments - $90 for 2
Across Australia Driving Distance Calculator & Ceduna Weather Forecasts
This Driving Distance Calculator will enable you to plan your accommodation stops when travelling between Sydney, Canberra, Melbourne, Adelaide, Ceduna, and across the Nullarbor through to the Western Australian Goldfields and Perth.
Recommended overnight stops are Ceduna, Nullarbor, Eucla, Balladonia, Kalgoorlie and Esperance. After Ceduna the cheapest fuel on the Nullarbor can be obtained at Mundrabilla - 563 kilometres west of Ceduna. Ceduna's weather is pleasant for most of the year although between December and early March you can expect a fair number of days over 38 degrees.