Dj's OYSTER'S DENIAL
Locally grown Pacific Oysters are definitely one of South Australia's regional local delicacies. Grown in the clear blue and pristine waters of Denial Bay locally grown Pacific Oysters truly are a delicacy both in terms of price, quality and taste. "Oyster's Denial" was created by Ceduna's funkiest Nullarbor Tucker Chef. DJ as he is known to his friends was born and bred in Geelong and is a fervent supporter of the Geelong Football Club - but we won't hold that against him! As a chef DJ has worked at a number of International Tourist Resorts located in both the Northern Territory's Kakadu National Park and Glen Helen's Gorge in Central Australia. As a recent resident to the area DJ truly appreciates the use of local ingredients in creating a unique Australian Cuisine.
"Oyster's Denial" was created one night in Ceduna after two travellers from Western Australia approached DJ to create an Oyster Dish. Both Sue Davis and her boyfriend Glenn challenged DJ to create a unique recipe with the 5 dozen oysters they had bought earlier in the day from Oyster Growers in Denial Bay. DJ has outdone himself with this recipe, and both Sue and Glenn never did get to eat all the five dozen oysters! At DJ's insistence both Sue and Glenn were denied the right to eat all 5 dozen Oysters as there were other friends equally keen to share the task of eating this Oyster dish. That's one of the reason why he's a friend of mine!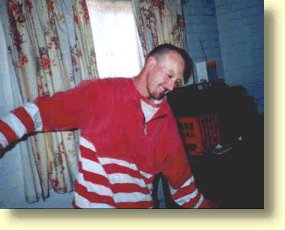 DJ Hamming it up for the crowd
Detailed below is DJ's recipe. Just follow the instructions, eat, enjoy and indulge yourself!
The Recipe
How to put it all together:

Place Olive Oil in a fry pan on moderate heat. Saute some Onion and Garlic and then add Lime Juice, Lemon Grass and Coriander. Sweat this concoction for a minute. Then add Chilli Sauce and as many Oysters as your appetite allows. Cook until the Oysters are set. Place on a bed of Cos Lettuce and garnish with dried Tomatos over the top.
Having said that ...... Bon Appetit!
For Extra Yumminess:
Infuse extra coriander with diced tomatoes 1 hour prior to cooking. Quantities can be varied according to individual taste.