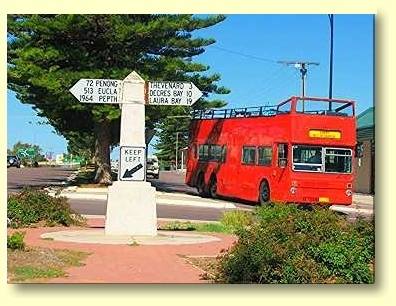 Ceduna Roundabout - East to Adelaide & West to Perth
Ceduna
Ceduna is very much a solitary hub town that serves the Far Western Coastal areas of South Australia. Heading to the West the nearest town of any size is Norseman, some 1200 kilometers away; and to the East 480 kilometers away is the town of Port Augusta, located on the main route to Adelaide and the Eastern States. Ceduna is a corruption of the local Aboriginal word "Chedoona" and is said to mean a place to sit down and rest. For the traveler crossing the Nullarbor, in either an easterly or westerly direction, Ceduna is indeed a very welcome overnight rest stop.
Located on the scenic shores of Murat Bay, Ceduna is a town of some 4000 people supported by a number of local industries, including wheat farming, gypsum mining, salt mining, and commercial fishing for a number of local fish species such as the much renowned King George Whiting, Snapper, Garfish, Prawns and Lobsters which are known to South Australians as "Cray Fish". <
Recent developments have also seen the discovery of 6 heavy mineral sands deposits within the "Eucla Basin". This extensive mineral sands province ranges eastwards of Ceduna through to Western Australia. Locally, the Iluka Resources company has 2 particularly promising Zircon sands deposits within the Jacinth-Ambrosia and Dromedary tenements, and the development of these 2 mining prospects will soon see Iluka Resources become a leading exporter of rare Zircon sands to the steel industry, and "high tech" ceramics and electronics components manufacturers around the world. <
Ceduna Visitor Information Centre
Ceduna's Visitor Information Centre is located at 58 Poynton Street. Nullarbor Net recommends travelers pay a visit to the Information Centre in order to view an excellent range of take away brochures covering Ceduna, the Nullarbor, Eyre Peninsula and other regional South Australian attractions. The Information Centre a;so offers a range of bookings for local tours. Internet and Email facilities are also available at very reasonable rates. During the whale watching season Ceduna's Information Centre can also provide you with advice regarding the number of Southern Right Whales that can be seen at the head of the Great Australian Bight, and at nearby Fowler's Bay. For further information visitors are recommended to telephone the centre on 08 8625 3343 or 1800 639 413. Alternatively email perry@cedunaboatcharter.com.au or visit www.ceduna.net/page.aspx?u=530
Ceduna Travelworld
Travelworld Ceduna is a locally owned Travel Agency that has been operating in Ceduna since 1997. Ceduna's Travelworld Ceduna's Travelworld ia located nearby at shop 3, 42 Poynton Street and provides services relating to domestic and international airfares, accommodation, cruises, rail, car hire, travel insurance, cash passport cards, and so on. For further information telephone (08) 8625 2780.
Travelers Facilities
Ceduna provides close to a full range of shopping, banking and business services for the traveler. Within Ceduna and nearby Thevenard a wide range of accommodation facilities are available to suit the budget needs of all travelers. Within the 2 towns are 5 Caravan Parks, 4 Motels and 2 Hotels. For a town of Ceduna's size, medical facilities are very good with up to 3 Doctors being on call to provide medical support to the local Murat Bay Hospital. Ceduna also has the services of a visiting Dentist two days a week. . Should Ceduna's Dentist be out of town there is also a dentist at nearby Streaky Bay. Ceduna has 1 supermarket located adjacent to the "Roundabout". Jim's Supermarket located in the main street of Thevenard, has the most extensive opening hours and trades 7 days a week until 8pm. Both the ANZ Bank and the State Bank of South Australia operate from the main intersection in Ceduna and offer a full range of banking services, including providing travelers with access to after hours ATM machines. Ceduna's local Post Office also acts as an agent for the Commonwealth Bank. Should your car or vehicle require mechanical repairs or servicing there are quite a number of businesses able to do the necessary work. This is pretty much essential should you be crossing the Nullarbor Plain as prices rapidly skyrocket between Ceduna and Norseman - and that's if you are lucky enough to find a mechanic!
Ceduna Eating Places
Within Ceduna are a number of cafes serving the local population. Next to the State Bank of SA is a cafe which serves the best cappuccino in the whole town. Scattered along the main street is the West Coast Bakery which provides a variety of good lunches, and Bill's Fish and Chips which obviously specialises in seafood, particularly locally caught King George Whiting. Further along the street is Bill's Pizza and Pasta which specialises in a variety of tasty cheap eats. At the back of Bill's Pizza and Pasta is a comfortable eating area with lots of space and shelter from the hot summer sun. Across the road from these eateries can be found another cafe known as Cactus Cafe which does most of its trade during lunch times and is pleasantly situated in an arcade. Ceduna Foreshore Hotel and Thevenard Hotel also provide counter lunches and restaurant facilities - just the thing after a stroll along the Ceduna or Thevenard jetty. Other fast food outlets include the Shell Road House and Mozie's Diner both of which are located on the eastern approaches to Ceduna. Both these roadhouses operate 7 days a week 24 hours a day. On Ceduna's western approach travelers will find the local BP Roadhouse which is likewise open 24 hours a day, 7 days a week. All of Ceduna's Roadhouses have shower facilities. EFTPOS facilities are also available at all of Ceduna's Roadhouses.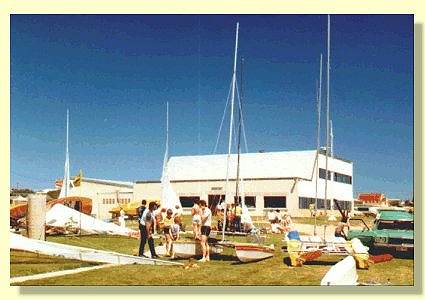 The Ceduna Sailing Club
Transport Links
Ceduna is blessed with good transport links to the rest of South Australia. Bus services operate 4 times a week between Ceduna and Adelaide, in both directions - with a change of coach midway at Stateliner's Port Augusta Interchange. Please note, this coach service is now a day trip rather than an overnight service which operated until September 2008. Premier Stateliner Coachlines operate a truly epic 12 hour long service with buses stopping at country towns and Post Offices to pick freight and cargo, and on load and off load passengers. Tickets can be purchased from the Premier Stateliner Bus Depot in Franklin Street, Adelaide. Alternatively in Ceduna tickets can be purchased from the BP Roadhouse on the western edge of town. Stateliner's bus routes and timetables can be viewed at www.premierstateliner.com.au.
Rex Air Flights Between Ceduna & Adelaide
Regional Express Airlines (Rexair) operate daily flights between Adelaide and Ceduna. In the current climate of cheap airfares short getaway holidays to the West Coast of South Australia are now a real option. For further information visit the Rexair website or telephone 13 17 13. Alternatively contact Travelworld Ceduna which can also arrange local accommodation bookings, whale watching tours, self drive hire cars and fishing expeditions. Travelworld Ceduna can be contacted on (08) 8625 2780 or fax (08) 8625 3294. Alternatively email ceduna_vic@bigpond.com.
Ceduna Caravan Parks and Self Contained Accommodation

Ceduna's Airport Caravan Park is located on the Eyre Highway's eastern approaches to Ceduna. Within the Airport Caravan Park visitors will find a number of 3 Star rated detatched apartments, 4 berth en suite cabins and 2 bedroom holiday cabins suitable for up to 6 people. Approximately 300 camping and caravan sites are also available, with 160 of these being powered sites. Prices range from $120 per night for 2 bedroom 3 Star Apartments, $60 for Standard "Studio Style" self contained cabins with ensuite facilities, $50 for standard budget cabins, $20 for powered camp and caravan sites, and $20 for unpowered sites. All prices are valid as at September 2012 and refer to tarrifs for 2 adults. Other facilities at Ceduna's Airport Caravan Park include a barbecue area, swimming pool, games room, restaurant and a bar. Ceduna's Airport Caravan Park is an excellent facility for very large touring and holiday groups. Discount rates are offered for people staying six nights or more. Pets are permitted on a leash. For further information telephone (08) 8625 2416 or fax (08) 8625 2416. Email csfoster@bigpond.com.au Alternatively view Ceduna's Airport Caravan Park and Holiday Accommodation Gallery information pages.
The Lodge - Ceduna can be found right in the centre of Ceduna's central business district, on Poynton Street. Formerly the Ceduna Masonic Hall, the Lodge has recently been converted into a fully self contained accommodation facility with a contemporary look in mind. Comfortably accommodating upto 9 people the Lodge has a fully equipped kitchen and open living areas. Other facilities include rainwater tanks, pool table, barbecue and parking at the rear of the premises. Crab nets and fishing tackle can also be provided for the use of guests. Ceduna's Lodge is located a short walk from local cafes, the Murat Bay jetty and Alexander's Beach. Accommodation rates vary depending on numbers. Pets may be permitted depending upon circumstances. For further information and bookings contact Travelworld Ceduna on (08) 8625 2780 or email ceduna_vic@bigpond.com.
Ceduna Foreshore Caravan Park is situated on Poynton Street, adjacent to the Ceduna Hotel Motel. Ceduna's Foreshore Caravan Park offers travelers 4 and 6 berth cabins, and approximately 55 powered caravan and camping sites. Camp kitchen, barbecue and rainwater facilities are available. Ceduna's Foreshore Caravan Park is conveniently located 50 meters from the town centre, a popular fishing jetty and a local boat ramp. For further information telephone or fax (08) 8625 2290.
Ceduna Tourist Park is located at 29 McKenzie Street. Ceduna Tourist Park offers a number of Park Cabins with en suite and cooking facilities suitable for up to 6 people. Approximately 45 caravan sites are available along with grassed tent sites. Other facilities at Ceduna Tourist Park include camp kitchen, rainwater, barbecue and shaded areas. No pets are permitted. For further information telephone (08) 8625 2150 or email contact cedunab4@tpg.com.au
A1 Cabins and Caravan Park is located at 41 McKenzie Street. A1 cabins offers travelers 18 cabins suitable for up to 6 people - some with en suite and microwave oven facilities. Approximately 30 powered caravan sites and a number of grassed tent sites are also available. Other facilities at A1 cabins include a playground, camp kitchen, barbecue, rainwater, shaded areas and a fish cleaning station. Pets are permitted on a leash. For further information telephone or fax (08) 8625 2578.
Shelly Beach "Nomads" Caravan Park is located at 178 Decres Bay Road - opposite Ceduna's Race Course. Shelly Beach Caravan Park offers travelers 10 fully self contained en suite cabins suitable for up to 6 people. Also available are 26 powered sites suitable for caravans and campers. Facilities at Shelly Beach Caravan Park include camp kitchen, rainwater, fish cleaning station, gazebo and barbecues. A feature of Shelly Beach Caravan Park is 1 kilometer of beach frontage and sandhills. Situated 3 kilometers east of Ceduna's town centre, Shelly Beach is probably the quietest caravan park in town. Pets are permitted on a leash. For further information telephone or fax (08) 8625 2012. Email shellycp@tpg.com.au.
Ceduna Holiday House can be found at 16 Borlase street and comfortably accommodate 6 to 10 people. Ceduna Holiday House is a 4 bedroom fully self contained house located in one of Ceduna's residential areas. Facilities include 2 bathrooms, 2 queen size beds, 1 double bed, 3 singles, and a sofa bed if needed. Ceduna Holiday House is well suited to small groups travelling and holidaying in the area on a budget. For further information and directions telephone (08) 8625 2471 or (08) 8625 2780.
Ceduna Hotels and Motels
Ceduna Foreshore Hotel Motel is located at 32 O'Loughlin Terrace - overlooking the shores of the Murat Bay. Just a short short stroll from Ceduna's town centre Ceduna Foreshore Hotel Motel offers a range of 57 rooms from deluxe standard hotel rooms to spacious executive rooms, with many offering beachfront views. On site is a bistro offering indoor or outdoor dining where you can relax and enjoy the uninterrupted views of the Murat Bay. The hotel offers the largest hotel based conference centre in the area, a range of bars, Gaming Lounge, Pub Keno, Lotto and TAB services and a Cellarbrations bottle shop. Hotel facilities include a guest laundry, Wi-Fi Access and secure, complimentary car parking. For further information telephone (08) 8625 2008 or fax(08) 8625 3585. Reservations can also be made by contacting 1800 655 300. Email frontoffice@cedunahotel.com.au. Alternatively please visit www.cedunahotel.com.au
East-West Flag Motel is located at 66 - 76 Mckenzie Street, Ceduna. The East West Motel offer 50 standard and deluxe units. Facilities include a licensed a la carte restaurant and bar, satellite TV, games room, function room and swimming pool. For further information telephone (08)8625 2101 or fax (08) 8625 2829. Mobile phone 0418 855 670. Email contact bookings@eastwestceduna.com..au.
Highway 1 Motel is located at 35 Eyre Highway - on the western approaches to Ceduna. Highway 1 Motel offers 24 standard and deluxe units, including 1 with facilities for the disabled. Two A frame units are also available with cooking amenities. Other facilities include a licensed restaurant, 24 hour on site service station, driveway service, and fishing and tackle supplies. For further information telephone (08) 8625 2208 or fax (08) 8625 2866. Email contact highwayone@bigpond.com
Ceduna Motor Inn is located at 49 McKenzie Street on the eastern approaches to Ceduna. Recently renovated Ceduna Motor Inn offers 25 standard and deluxe units with en suite amenities. Other facilities include satellite TV, barbecue and licensed restaurant. For further information telephone (08) 8625 2201 or fax (08) 8625 3199. Email contact cedunamotorinn@bigpond.com
Ceduna Attractions
Swimming In Murat Bay
Ceduna is situated on scenic Murat Bay and as you would expect the locals favourite pastimes include a variety of water based activities. Ceduna's pleasant foreshore offers sheltered swimming conditions. The best places to swim are near the Ceduna Sailing club and at Alexander's Beach where there is also a raft moored nearby. Both beaches are located a few minutes walk from Ceduna's town centre.
Encounter Walking Trail
Ceduna's Encounter Walking Trail is a 3.6 kilometer walking trail that begins at the Ceduna Sailing Club and heads to Pinky Point Lookout - located in nearby Thevenard. With splendid views over Thevenard's port area, Murat Bay and Saint Peter's Island, Ceduna's Encounter Walking Trail is an excellent way to get some exercise and pass a couple of hours or so. Just remember the return journey is just a shade under 8 kilometres.
Pacific Oysters and Ceduna's Oysterfest - 27 September to 30 September 2012
Nearby Denial Bay is the site of several Oyster Growing Farms. Fresh Oysters are usually available between April and January. Travelers are welcome to tour Denial Bay's Oyster Growing farms however its best you contact Ceduna's Travelworld and Visitors Information Centre to arrange convenient viewing times. On the western approaches to Ceduna travelers will find the Ceduna Oyster Bar which obtains fresh Pacific Oysters direct from local oyster growers every day. Each year during South Australia's October long weekend Ceduna comes alive with the Oysterfest. Ceduna's Oysterfest is a hugely popular local festival which celebrates the prized eating qualities of locally grown oysters and travelers passing through Ceduna at this time are advised to make accommodation bookings well in advance. This year's Oysterfest begins on 27 September 2012 and over the next 3 days visitors will be entertained with the Oysterfest Street Parade, Cultural dance displays, Art and Craft demonstrations, and the South Australian Oyster Opening Championship. In previous years highlights have included aerial and acrobatic displays by 13 times world aerobatic champion Chris Sperou, along with a fireworks display down by the Ceduna jetty to close the event on Sunday night.
Ceduna's Old Schoolhouse Museum Ceduna's Schoolhouse Museum is located near the junction of Murat and Park Terrace - not far from the Shell Roadhouse.
Within the museum are a number of historical displays covering the area's pioneering past. A unique feature of the museum is the Maralinga Room where visitors can view a number of radioactively inert objects souvenired from the British Government's atomic tests of the 1940s and 50s. These tests were carried out at Maralinga and Emu - north of present day Yalata. Sadly many of the traditional Anangu people were forced to vacate their traditional homelands for many years. Ceduna's Schoolhouse Museum is open between 10 AM and 12 PM Monday to Tuesday, and Friday to Saturday. The museum is also open between 1 PM and 4 PM on Wednesdays. Thursday opening hours are between 10AM and 12 PM, and 1 PM to 4 PM.
Ceduna Fishing Spots
Ceduna is definitely a fisherman's paradise with anglers on Ceduna's jetty frequently catching good hauls of Garfish, Salmon, Snook, Tommy Ruff, Blue Swimmer Crabs and the occasional squid. Nearby Thevenard jetty is also a good fishing spot, although at times you will be forced to share the wharf with a couple of 10,000 ton grain ships! In Ceduna squid makes a good all purpose bait that can be bought from local supermarkets and sports stores. Best fishing times are usually an hour or so before and after high tide.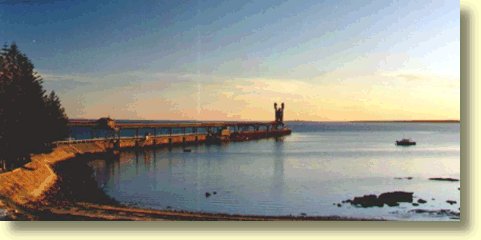 Thevenard Jetty
Boating Information
Fortunate travelers with a fishing boat in tow will appreciate that the Ceduna area has a number of boat ramps. For the angler on the road the most accessible boat ramp is located in front of the Ceduna Foreshore Caravan Park. Two kilometers towards Thevenard is the Puckridge Boat Ramp. Locals tend to launch their fishing boats from here. In Thevenard itself another boat ramp is located next to the Fish Processing Factories. To head to the Fish Processing Factories drive 2 kilometers or so towards Thevenard and look for a sign on the left. Thevenard's boat ramp is accessed by a sealed road and is used by professional fishermen and members of the general public alike.
King George Whiting - A Local Delicacy
King George Whiting are frequently caught on the far west coast of South Australia and a fishing boat is the ideal platform from which to catch this fish. Some of the best fishing holes to catch Whiting are located on the western side of Murat Bay. Much prized by casual anglers and commercial fishermen alike, Whiting are a bottom feeding fish that are normally found in "White Patches". Essentially white patches are nothing more than patches of sandy bottom surrounded by sea weed. The preferred bait for Whiting is a bivalve shellfish known locally as "Razor Fish". As a traveler however, it is unlikely you will have the special equipment required to gather this bait. Nullarbor Net therefore suggests you use squid as an all purpose alternative bait. Whiting tend to bite on a rising and falling high tide. When fishing Ceduna's waters prevailing winds come in from the west, with onshore southerly winds strengthening as the day progresses. If all this sounds like too much effort you can always visit Thevenard's Fish Processing factories to buy locally caught King George Whiting. Just remember to tell your partner that you caught them!
Cactus Beach & Point Sinclair
Cactus Beach is approximately 94 kilometers west of Ceduna.
Renowned for having 3 of the best surf breaks in Australia, "Cactus" is definitely a must see for all serious surfers. For the rest of us Cactus is an interesting detour, and certainly an off the beaten track destination. At nearby Point Sinclair travelers will find a fishing jetty, sheltered picnic areas, gas barbecues, toilets and a swimming enclosure. Point Sinclair is where the locals go for a spot of recreation. Budget camp sites and a number of on site vans are also available for hire at the Point Sinclair camping ground. Please note that these facilities are unpowered and that you will need to bring your own drinking water. For further information please contact Point Sinclair's Camping Ground Manager by telephoning (08) 8625 1036. To head to Cactus Beach drive west to Penong and then turn south on an unsealed road for 21 kilometers This road is well signposted and located on the western side of Penong. A word of advice: some of the locals swear that Cactus Beach Flies have bred with Wedge Tailed Eagles and that they're liable to carry you away and make a meal of you! Nullarbor Net suggests you bring some insect repellant along.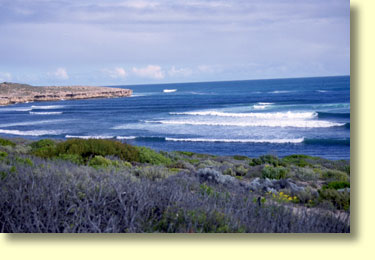 Cactus Beach - Off The Beaten Track
Laura Bay, Decres Bay & Wittlebee Conservation Park
Casual 4 Wheel Drive enthusiasts will appreciate a short trip to nearby Laura Bay Conservation Park. Laura Bay is a fairly rugged limestone coastline with remnant vegetation typical of that found in the area prior to European settlement. Cliff top fishing is one of the attractions of Laura Bay and conventional vehicles can also access some bare bones camp sites located in the area. Laura Bay's camp sites are suitable for budget travelers who don't mind roughing it. For information an camp sites and fees contact Ceduna's Department of Environment and Heritage by telephoning (08) 8625 3144. Other points of interest in the area include Decres Bay and Wittlebee Conservation Park. Laura Bay is located 20 kilometers or so south east of Ceduna and can be accessed by driving along Decres Bay Road.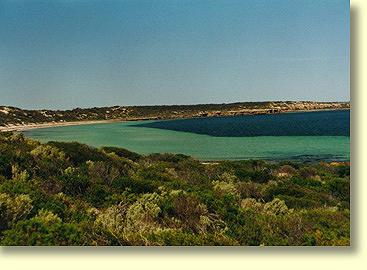 Cape Wittlebee Conservation Park
Yumbarra Conservation Park and Goog's Track
Yumbarra Conservation Park lies in 4 Wheel Drive country 30 kilometers or so to the north of Ceduna. Attractions within the area include Goog's Lake, rockholes, numerous sandhills over 20 meters high, and remote Mount Finke. Running through Yumbarra Conservation Park and the more northerly Yellabinna Reserve is Goog's Track. Goog's Track heads in a northerly direction for 200 kilometers and terminates 40 kilometers west of Tarcoola - an old gold mining area adjacent to the Indian Pacific Railway. A word of warning. Access to Goog's Track and Yumbarra Conservation Park is definitely only for well prepared and experienced 4 wheel drive enthusiasts. For up to date advice Nullarbor Net definitely recommends you contact Ceduna's Travel Centre.
Cycling Across the Nullarbor:
Cycling across the Nullarbor is not without its hazards. In particular cyclists are advised to beware of cycling at night and to treat semi trailers with the caution they deserve. Nullarbor Net thoroughly recommends hard core cyclists check out Australian Bicycle Camping Fact Sheets' guide for highly practical advice on how to cross the nullarbor. This guide is chockablock with practical information regarding weather and wind conditions, water requirements, the general terrain, cycling distances between towns, aswell as camping information of particular interest to "bicycle travelers".

Nullarbor Net Travel Tips
Fuel prices can be very high in remote areas such as the Nullarbor. If you are heading west, Ceduna is definitely a recommended refuelling stop. Fuel price information for South Australia and Western Australia can be found at the ExplorOz website. If you intend to drive through Western Australia, Fuel Watch also provides an excellent source of regularly updated information covering both metropolitan Perth and country areas of the state.