Balladonia
Balladonia is 191 kilometres east of Norseman and 181 Kilometres west of Caiguna.
Balladonia has a population of about 9 people - and that depends on whether you're coming or going.
Balladonia Roadhouse is open 7 days a week between 7 AM and mid evening. Opening hours can very depending on whether it is peak or off peak holiday period. Balladonia Roadhouse provides an important rest stop for the traveller crossing the Nullarbor. The Roadhouse itself is both modern and well presented. Facilities within the Roadhouse include a Restaurant, Bar, Motel, and a caravan park with camping facilities.


Balladonia Roadhouse Accomodation Rates:
Balladonia Motel Deluxe Room Rates:

Deluxe Doubles $160
Balladonia Motel Standard Room Rates:

Standard Double Room 1 or 2 people $140

Family Rooms Queen plus 1 single $155
Family Rooms Queen plus 2 singles $170
Family Rooms Queen plus 3 singles $190

Balladonia Backpackers Facilities

Single Bed $50-00
Double Bed $90-00
Twin (2 singles) $95-00
Triple (3 singles) $105-00
Family Double plus2 singles $110-00

Shared facilities with Caravan Park
Balladonia Caravan Park Rates - All Sites:
1 to 2 people $30-00
3 people $34-00
4 people $38-00
5 people $42-00
6 people $46-00
7 to 10 people $50-00

Prices include use of showers and swimming pool

Prices valid as at May 2016.

For further information Balladonia Roadhouse can be contacted on (08) 9039 3453.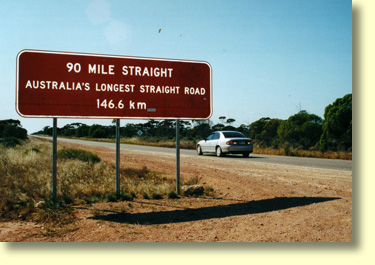 Not a bend in sight!
To the east of Balladonia is Australia's longest straight road - all 146.6 kilometres of it. For those of us who are metrically challenged its more common name is the "90 Mile Straight."
Within the Balladonia complex is an interesting and well designed museum. Displays within the museum cover everything from Balladonia's early pioneering days to the dramatic crash landing of the Skylab space station in 1979.
Within the museum a number of remnants from Skylab can be seen. Amusingly at the time, the local Dundas Shire Council presented NASA with a littering fine, and President Jimmy Carter even rang the Roadhouse to make his apologies. The whole issue was something of a good natured diplomatic event with Canberra's American Ambassador visiting the region to inspect any damage that may have been done.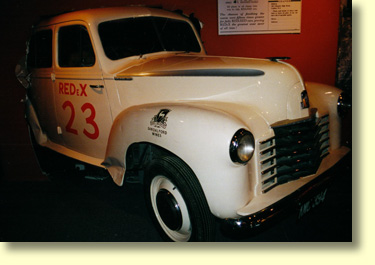 Red X Car Trial Exhibit
Located 14 kilometres east of Balladonia is Afghan Rocks. Here an Afghan Cameleer reportedly lost his life whilst innocently bathing in the only water-bearing rock pools for many miles. Apparently the Afghan man was attacked by two very thirsty men who were offended by his behaviour. Water has always been an issue on the Nullarbor, and it is just as scarce today as it was in the Nullarbor's early pioneering days.
One of the better roadside stops is located at Newman's Rocks, 50 kilometres west of Balladonia. Newman's Rocks are located about a kilometre off the Eyre Highway and the area can provide a pleasant picnic spot - particularly if there have been recent rains. This site might well also provide a good campsite for those travelers who are not averse to camping in remote areas.
About 90 kilometres west of Balladonia is Fraser Range Station. Fraser Range Station is a working pastoral property that specialises in producing Damara sheep. This station has a variety of accommodation, including single and double rooms, caravan and tent sites. Fraser Range might appeal to those wishing to experience a genuinely remote working pastoral property.
Although Balladonia Roadhouse staff do not exactly encourage it, there are a number of unsealed roads that may be of interest to the traveller. One such road heads down towards Esperance and is locally known as "The Track." This is a fairly rough gravel road suitable for two wheel drive vehicles when the weather has been dry. The Parmango Road as it is otherwise known can be a short cut to Cape Le Grande and Cape Arid. Traveling via this route avoids the need to pass through Norseman and Esperance - at the expense of using dirt roads. Always check with Balladonia Roadhouse staff before venturing off the Eyre Highway.
Meanwhile take a look at our Mate Max's site on the Western end of the Nullarbor

Cycling across the Nullarbor is not without its hazards. In particular cyclists are advised to beware of cycling at night and to treat semi trailers with the caution they deserve. For a site with practical advice for hard core cyclists check Australian Bicycle Camping Fact Sheets. Australian Bicycle Camping Fact Sheets offers an abundance of essential advice for long distance cyclists wishing to cross the Nullarbor, the Eyre Highway and other South Australian and Western Australian destinations.

A site for dedicated bicycle travellers
with practical information covering regional Australia