Penong
Penong is a very small settlement located on the Western edge of South Australia's grain growing belt. The town itself is an easy 75 kilometres drive to the west of Ceduna, or coming from the opposite direction it is situated 78 kilometres east of Nundroo Roadhouse. Scattered around Penong are dozens of windmills that pump water from the Anjutabie water Basin. This water is supplemented by the use of rain water and water is also carted by truck from a reticulated water supply connected to the Tod River pipeline some 15 kilometres east of Penong. South of Penong are massive deposits of salt and gypsum in Lake McDonnell. Each year 100,000 tonnes of salt are harvested from brine pools and exported from Port Thevenard to the eastern States. Lake McDonnell's gypsum deposits are the largest in the Southern Hemisphere and cover an area of 87 square kilometres to an average depth of 4.8 metres. That's a lot of gypsum. Cactus Beach is located 21 kilometres south of Penong and surfers from around the world and Australia frequent the area to surf 1 right hand and 2 left hand breaks.

Banded Stilts at nearby Lake MacDonnell
Penong
Facilities
Penong General Store and Post Office
The General Store sells groceries, pies, pasties, fruit, vegetables, ice cream, LPG, ice, fishing bait and souvenirs. Penong General Store also acts as an agent for the State Bank of South Australia. EFTPOS Facilities are available however a $2-00 fee applies to cash out transactions. An outdoor eating area is available and an Australia Post Box is located nearby. Opening Times: Monday to Friday .. 8-00 am to 5-30 pm Saturday to Sunday ........ 9-00 am to 1-00 pm
Penong Laundromat is located behind the General Store on Saunders Street
Caltex Roadhouse and Fast Food Outlet This business operates from the main road . Fuel is sold 24 hours a day 7 days a week. The fast food shop operates between 6-00 AM and 10-00 PM. 7 days a week. Fishing tackle and supplies are also sold in the Roadhouse.
A Public Phone is also available next to the Take Away food shop.
Penong Accommodation
Penong Hotel operates from the main Road and has a beer garden and accommodation facilities. For further information telephone (08) 8625 1050.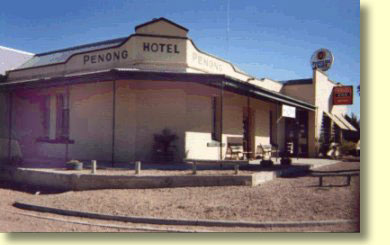 Penong Hotel
Penong Caravan Park is located 500 metres north of the Eyre Highway on 5 Stiggants Road. Penong Caravan Park's facilities include drive through sites and on site vans for hire. Cabins are also available for hire and guests are offered free use of laundry facilities. Penong's Caravan Park also has barbecue facilities and pets are permitted on a leash. For further information please telephone (08) 8625 1111. Alternatively for email contact Penong Caravan Park.
Penong
Attractions
If you are interested in surfing definitely make the journey to Cactus Beach. Cactus Beach is renowned for 2 world class left hand breaks named "Cactus" and "Castles", and a right hand break known as "Caves".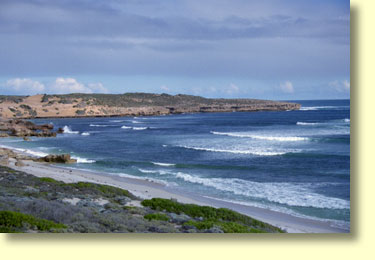 Cactus Beach on a calm day
For the non-surfing inclined traveller a popular picnic spot is located at nearby Port Sinclair. On the Western outskirts of Penong is the Woolshed. The Penong Woolshed is operated by the local community and is generally open 5 days a week between 10-00 am and 4-00 pm. Nowadays the Woolshed operates as a museum exhibiting historical memorabilia and a variety of local arts crafts. If Quandong Jam or Chutney is available I definitely recommend you buy some. The Quandong is a variety of native fruit. Also sold is a popular range of handcrafted glassware made by local artist Cindy Durant. Cindy's work typically exhibits marine themes including fish, seahorses, sea shells and crabs. Within Penong is Paul Gravelle's surfboard factory which may or may not be open depending on how the surf is breaking!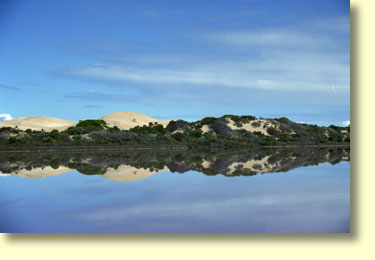 Blue Lake near Cactus Beach