Fowler's Bay
Fowler's Bay is located 32 kilometres southeast of Nundroo and 58 km southwest of Penong.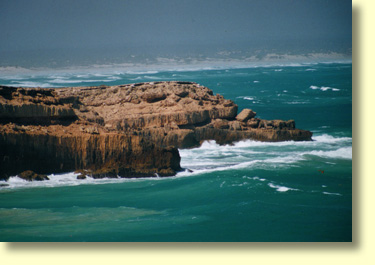 Rugged Coastline East of Fowlers Bay
European discovery of the Fowler's Bay coastline was made in 1627 by Captain Francois Thyssen, the Dutch commander of the Gulden Zeepard. In 1802 Matthew Flinders made detailed nautical charts of the area in the sloop HMS Investigator. Flinders named the Fowler's Bay in honour of his First Lieutenant, Robert Fowler. By the 1840s Fowler's Bay had become well known to French and American whaling ships. The summer of 1840-41 saw Edward John Eyre set up a depot in the Fowler's Bay sandhills. This was very much a prelude to Eyre's epic crossing of the Australian continent. At the time Eyre's journal recorded that two American whalers had recently been active in the area, and according to Eyre the whaling ship Amazon had slain 33 Right Whales and 8 Humpback whales.
In the 1860s and 70s pastoral leases were granted in the Fowler's Bay area. Gradually these individual leases were consolidated into the vast Barr Smith sheep run - a sheep run that extended from the Nullarbor to Point Brown, near Streaky Bay. For a time wool was the chief export from Port Fowler. Later developments included Fowler's Bay being employed as a major repeater station for the Transcontinental Telegraph Line linking Eastern and Western Australia.
In the late 1880s the Barr Smith pastoral leases reverted to the state government and the area was opened up to wheat and cereal growing. Today Fowler's Bay sits on the western edge of South Australia's vast grain belt. Fowlers Bay'a early social history was very colourful indeed - with many observers likening it to America's Wild West.
In the 1880s heavy drinking was rife in this frontier community and a diary recorded by Mrs. Richards reports her dread when the supply ship "Graceland" pulled into port bearing a cargo of bottled beer. Apparently the beer was unloaded at 9 AM one morning in May 1881, and "there was much drinking that day as all the men went on a spree." Mrs. Richards was hardly a wowser however, and on another occasion, her diary reserved a special mention for Trooper Le Messurier "who went to bed delightfully drunk, was sick all over the clean bed, and that was not all!" Mrs. Richards was reportedly never more disgusted in her whole life and Nullarbor Net urges its readers to avoid any such distasteful embarrasments!
Other notorious characters from the time included R.T. Maurice who was renowned for shooting bottles lined up on the window sill of the Globe Hotel. As a variation on the shooting theme Maurice would occasionally make targets of coins that had been stuck to the ceiling of the bar. Perhaps fittingly - and certainly not surprisingly - R.T. Maurice passed away in the bar of his much beloved Globe Hotel.
Fowler's Bay Facilities
Travellers facilities are fairly basic in Fowler's Bay.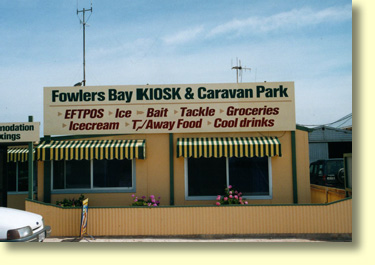 Get your fishing tackle here
Fowlers Bay Caravan Park and Kiosk are conveniently located by the seaside. This caravan park offers the visitor 25 powered sites and 1 on site van with a built-on annexe. Camping fees for the powered sites are $25 for up to 2 people, with rates of $5 per additional person. One on site van can also be hired for $40 per night for 2 people, with each extra person charged $5 per night. For those of you on a fishing expedition or an extended holiday just pay for 6 nights and you can stay the 7th night for free. Please note the above caravan park accommodation rates are valid as at 9 June 2011. Please feel free to to contact either Rod or Simone Keogh at the Fowlers Bay Caravan Park and Kiosk in order to arrange accommodation bookings. Rod and Simone's contact telephone number is (08) 8625 6143.
Nullarbor Net also wishes to advise that Rod and Simone Keogh are the new owners of Fowlers Bay Caravan Park, and that they can provide you with mud maps to local hot fishing spots within the area. One new attraction are the Whale Watching Charters that are also conducted in the area between June and October. Bookings for the whale charters can be made at the Fowlers Bay Kiosk. Please note prices for the Whale charters are $50 per person as at 9 June 2011.
Adjoining the caravan park is a public phone, playground, undercover picnic facilities and public toilets.
Fowlers Bay Holiday Flats and Units are also located on the foreshore. Accommodation rates range from $65 per to $75 per night for 7 self contained holiday units. For further information telephone Reg or Lorrayne Davis on (08) 8625 6179. From an amenities point of view Fowler's Bay kiosk sells fishing bait, gas, ice, phone cards, camera film and a range of groceries. Diesel fuel is also sold within Fowler's Bay however the nearest petrol outlet is at Nundroo - 32 kilometres away to the Northwest.
Fowler's Bay Attractions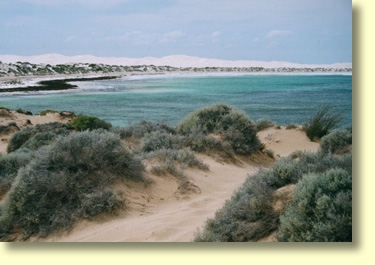 Scott's Beach
Fowler's Bay is situated just a couple of hours drive from the Head of Bight. During the whale watching season from May to October Fowler's Bay may well provide an excellent overnight stop before or after viewing the Southern Right Whales.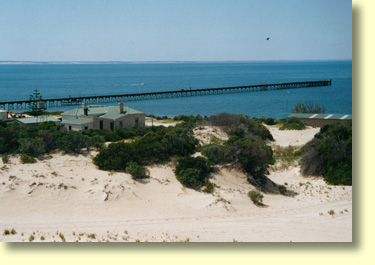 Lots of sand, Lots of Water and Plenty of Fish
Fowler's Bay is also blessed with an abundance of good fishing. Here a good time can be had catching Mulloway, Whiting, Garfish, Tommy Ruff, Trevally, Sweep and so on - in fact just about anything except your pet goldfish. For the casual fisherman Fowler's Bay jetty is just a short walk from the caravan Park. Nearby Scott's Beach and "Mexican Hat" are very popular for surf fishing. You will need your vehicle to visit these areas. For those of you with a boat in tow fishing opportunities are nothing short of excellent. Should you intend to fish from a boat it is recommended you seek local advice as weather conditions in this part of the world can be very changeable. Basically southern winds and westerly squalls are matters to be concerned about.

Can you spot the Osprey's Nest?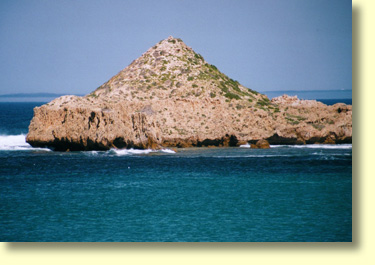 Mexican Hat Through A Zoom Lens
Within the Fowler's Bay area there are a number of potentially interesting tracks for the sightseer. Sights within the area include beaches, sand dunes and historical ruins that can be accessed by both 4 wheel drive and conventional vehicles.
Fowler's Bay is very much an isolated settlement but it does have some attractions for the long distance Nullarbor Traveller. If you like being off the beaten track then Fowler's Bay may well be to your liking. Nullarbor Net recommends Fowlers Bay as a great fishing destination and place to unwind from the daily pressures of life in the big city.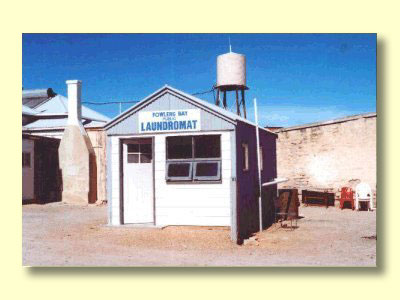 A Very Isolated Laundromat