Smoky Bay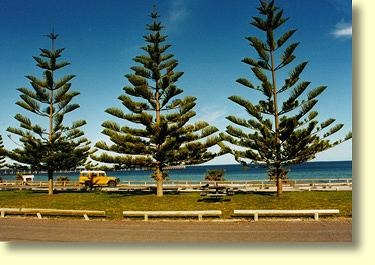 The Foreshore
Smoky Bay is a thriving community of 200 people (rising to 1000 in peak season) and is located 40 kilometres South East of Ceduna and 60 kilometres north of Streaky Bay. The early explorer, Edward John Eyre, passed through Smoky Bay during his 1840-41 expedition to King George Sound in Western Australia - now known as the township of Albany. The name "Smoky Bay" was attributed by Edward John Eyre, and was a reference to the fact he observed quite a bit of smoke - the result of fires lit by the area's indigenous people. To this day the name has stuck. As a town Smoky Bay exists to service the local farming, and thriving oyster growing and fishing industries. During Smoky Bay's long hot summers and school vacations South Australian families often while away lazy days just soaking up it casual and relaxed seaside atmosphere and wide sandy beaches.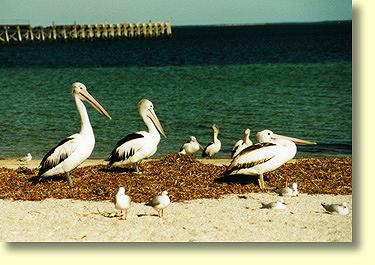 Is it lunchtime yet?
Smoky Bay Facilities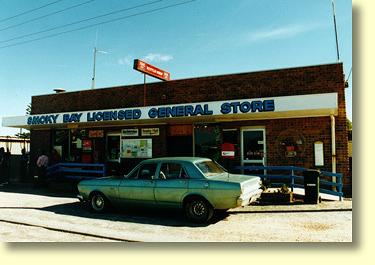 Smoky Bay's One Stop Shop
Smoky Bay's facilities include a general store supplying a range of general grocery items, fishing tackle, take away food, and liquor. The town boasts a caravan park, mechanical repair workshop, petrol vending facilities and an on call nursing service. EFTPOS facilities are available from the General Store and The Stateliner Bus Company regularly services Smoky Bay with through connections to and from Adelaide. The Stateliner passenger service operates several days a week and tickets can be purchased both at the Stateliner shopfront in the Franklin Street Bus Station in Adelaide, and at Smoky Bay. Within Smoky Bay a Boat Ramp can also be found which may appeal to travelers towing their own fishing boats.
Smoky Bay Caravan Park
Smoky Bay's Caravan Park is a comfortable facility situated right on the foreshore, a stone's throw away from the sea. Within the caravan park you will find a beer garden, a new barbecue, undercover area, and a kiosk that sells fishing tackle, fish bait and ice. Ice Creams, drinks and freshly harvested Smoky Bay Oysters are also available. Adjacent to the Caravan Park is a public pay phone. On site travelers and campers will find a range of accommodation options at the following rates:

Smoky Bay Caravan Park Site Prices
Powered Sites x 2 Persons - $28 per night
Powered Sites x 1 Person - $25 per night
Powered Sites x 2 Persons - $196 per week

Non Powered Sites x 2 Persons - $24 per night
Non Powered Sites x 1 Person - $21 per night
Extra People - Adults $10, Kids 4yrs to 15yrs - $8
Please note there are no pensioner discounts.

Prices valid for 1 December 2012 to 14 May 2013.

Smoky Bay Caravan Park Cabin Rates
Brick Cabins x 2 Persons - $73 per night
Brick Cabins x 2 Persons - $68 per night - for stays of 2 or more nights

Budget Cabins x 2 Persons - $60 per night
Budget Cabins x 2 Persons - $55 per night for stays of 2 or more nights

Beach House X 2 Persons - $105 per night for minimum stays of 3 nights
Extra People Adults $12, Kids to 15yrs for $8
Linen Hire is available.
Please Note there is no pensioner discounts on the above cabin rates.

Prices valid for 1 December 2012 to 14 May 2013

Cyclists & Backpackers can also be accommodated for in Basic Cabins, and within the Caravan Park's camp sites. Travelers should note Smoky Bay Caravan Park does not have EFTPOS facilities and that you will require your own linen. Dogs are permitted on a leash. For further information telephone or fax (08) 8625 7030.

Smoky Bay and Districts Community Club
Smoky Bay's Community Club is open from Wednesday to Sunday from 5pm until late. The club is fully licensed and within walking distance of the Caravan Park, the Beach and the Smoky Bay General Store. The club kitchen is open open for meals on Friday nights from 6:30pm to 8:30pm, and on Sunday nights from 6:00pm to 8:00pm. The Smoky Bay & Districts Coommunity Club can cater for anything up to 300 people. The club also has an on site PA system that can accommodate any function. Within the club visitors will also find a new children's playground and games room. For further information please contact (08) 8625 7029.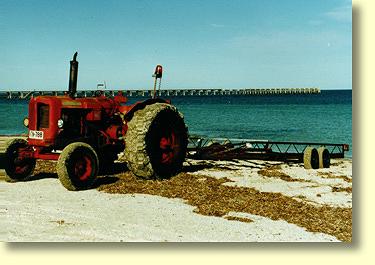 Useful for launching fishing boats
Smoky Bay Attractions
Typical of many West Coast towns the fishing ranges from good to excellent. Smoky Bay would make a great little retreat for keen anglers and fishing groups. If you're unable to hook a fish on South Australia's West Coast then you'll never be likely to catch anything anywhere else! When fishing the waters of Smoky Bay the angler can expect to catch such local species as Whiting, Flathead, Snook and Garfish. Obviously the best fishing results are obtained from a fishing boat.