Nullarbor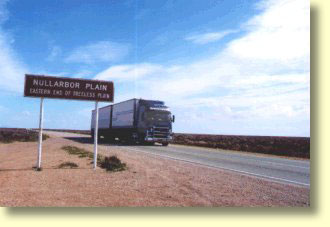 East of Nullarbor Roadhouse
Nullarbor Roadhouse is located 94 kilometres west of Yalata, 187 kilometres east of Border Village, and 201 kilometres east of Eucla.
In 1866 E. Alfred Delisser surveyed the Nullarbor Plain and noted a marked absence of trees. Contrary to some popular opinions the word Nullarbor is not of Aboriginal origins. In fact the local Mirning people referred to the area as "Oondiri" which is said to mean "the waterless". Delisser derived the term Nullarbor from the Latin "nulla" for no, and "arbor" for tree. Hence the term Nullarbor meaning no trees. In the 1870s and 1880s vast areas of the Nullarbor were leased to sheep graziers with many sheep stations later being incorporated into the vast Fowler's Bay run that stretched from Streaky Bay in the East to areas even further west of Nullarbor Station - a distance of over 400 kilometres! Today just about all that remains are abandoned homesteads. Koonalda homestead is one such abandoned site that the traveler can visit and use as accommodation, or as a base to explore nearby Koonalda cave and other limestone sinkholes within the area.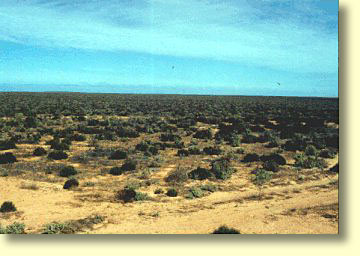 Treeless Tracts of the Nullarbor
Nullarbor Accommodation and Facilities
Nullarbor Roadhouse has close to a full range of facilities for travelers. Nullarbor Roadhouse sells fuel such as Diesel, LPG, Unleaded, PULP and Avgas. Also sold onsite are take away foods, and I've crossed the Nullarbor memorabilia. Within the complex are a motel, licensed restaurant, and attached to the Roadhouse is a caravan park with 17 powered and 11 unpowered sites. Rates for powered caravan sites are $30 and unpowered ones cost $20. Dogs are permitted in the Caravan Park restrained on a leash. Four Backpacker rooms are also available with rates starting from $55 for a single bed, $65 for 2 people, $75 for 3 people and $85 for 4 people. Nullarbor Roadhouse also provides travelers with laundry facilities that include washing machines and clothes driers. Nullarbor Roadhouse's shop, servo and restaurant are open from 7 am to 10 pm 7 days a week. Nullarbor Roadhouse also has a bar open from 10 AM to 10 PM eaxh day. Nullarbor Net recommends Nullarbor Roadhouse and Motel as an overnight stop.
The Nullarbor is a remote area and when traveling you can expect to pay high prices for accommodation, fuel and food. Make sure your vehicle is reliable before crossing the Nullarbor as mechanical repairs will be expensive and time consuming - especially if parts have to be freighted in. Transport costs are high this far away from civilisation! Please note Nullarbor Roadhouse DOES NOT have mechanical repair facilities available. Nullarbor Roadhouse is RAA listed for towing. Nullarbor Roadhouse can be contacted on (08) 86 256 271.
.
Nullarbor Motel Accommodation Rates
Motel Rooms Singles $139-00
Motel Rooms Doubles $159-00
Motel Rooms Triples $179-00
Motel Rooms Four People $199-00
Motel Rooms Five People $219-00
Family Rooms Two People $139-00 - Extras $20 per person up to 6 - 8 people
Prices are valid as at 9 April 2015 and may be subject to variation.<
Please note that Motel Rooms are fitted with ensuite facilities.
Family Rooms do not have en suite facilities. Please note Dogs are not allowed in Nullarbor Roadhouse accommodation facilities, however exceptions are made for guests who require guide dogs or hearing dogs.
For further enquiries please contact (08) 8625 6271. Travellers should note note the most current and uptodate accommodation prices can be found on the www.NullarborRoadhouse.com.au website.
/p>
Nullarbor Attractions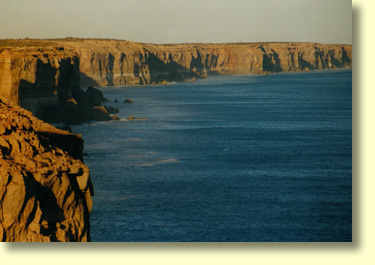 Nullarbor Limestone Cliffs
Southern Right Whales
Nullarbor Roadhouse is a staging point for travelers wishing to take in splendid views of the Bunda Cliffs and Southern Right Whales when visiting their winter calving grounds - generally between May and September. As of the 2011 Whale watching season prices for entry to the whale viewing platform are $12 for adults, $10 for senior card holders, and $26 for families (2 children and 2 adults). Extra children between 5 and 12 years old are permitted entry for $5 and children under 5 years old are admitted free. During the non whale watching season entry is by gold coin donation. This money is used to improve the facilities in the area. For keen photographers the Bunda cliffs are a must and Nullarbor Net recommends that you don't miss the spectacular views at the Head of Bight - whatever the time of year.
Whale Watching and Charter Flights
Located next to the Roadhouse is the Nullarbor airstrip. Operating out of this airstrip Chinta Airways conducts 30 minute flights for the very reasonable 2011 season price of $140 per person, with a minimum requirement of 2 passengers. The charter flight season generally operates between June and September, covering the Southern Right Whales migration to the Head of The Great Australian Bight. Spectacular aerial views of the Bunda cliffs and nearby sand dune complexes can be expected. Between June and September you can almost be guaranteed observing quite a large number of Southern Right Whales in their winter calving grounds. For further enquiries Chinta Airways can be contacted by telephoning 0488 994 988 or emailing info@chinta.com.au.
Stunning Clifftop Scenery
West of Nullarbor Roadhouse travelers can find some of Australia's best cliff top scenery. As some viewing locations are better than others we recommend you ask Nullarbor Roadhouse for advice, particularly if time is an issue. For those of you who are on a camping tour of Australia there are lots of areas between Nullarbor Roadhouse and Border Village which offer free camping - that is if you can endure sleeping under the stars! In summer daily maximum temperatures can reach over 40 degrees so take plenty of water.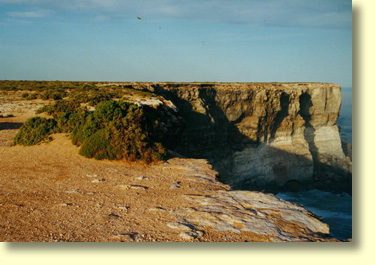 West of Nullarbor Roadhouse
Murrawijinie Caves
North of Nullarbor Roadhouse are the Murrawijinie caves. These limestone caves are open to the public but please take full safety precautions before venturing off the Eyre Highway. Reliable vehicles are necessary and the access road is a fairly rough track. The track is suitable for 2 wheel drive vehicles, however those of you with brand new vehicles might prefer take in other attractions! It is also recommended you ask Roadhouse staff for precise directions. Situated 10 kilometres north of Nullarbor Roadhouse the site is marked by a large sign. Here visitors will find a large doline - a collapsed cave, along with 2 more caves typical of the Nullarbor's Karst topography. Caves 2 and 3 are the most interesting with Hawks and Swallows using the caves as nesting sites. Temperatures inside the caves can be over 10 degrees cooler than above ground temperatures - especially during summer. Another warning - beware of snakes and be aware that entering caves is not without risk.
Koonalda Homestead
95 kilometres to the west of Nullarbor Roadhouse is the turnoff to the abandoned Koonalda homestead. The abandoned homestead itself is located roughly 20 kilometres north of the Eyre Highway. For more information it is recommended you contact the Ceduna Office of the Department of Environment and Natural Resources on (08) 8625 3144.
Nullarbor Wildlife
Travelers will occasionally see wild camels roaming the Nullarbor. Always on the move, and particularly during the summer months, herds of wild camels can be seen making tracks from the desert interior to cooler coastal areas. Herds can range from just a few individuals up to 40 or more animals. Pictured below are some specimens of Camelus Dromedarius - otherwise known as the One Humped Camel.
.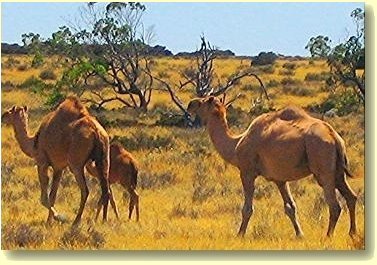 Wild Camels On The Nullarbor
Dingos can also occasionally be seen scavenging for food. If you come across Dingos don't feed feed them as they are wild creatures and best left to themselves. Whilst on the Nullarbor we've seen Dingos attempting to steal travelers running footware. No doubt such shoes are tasty, but if you value your runners don't leave them about! If I were a dingo I think I'd prefer a can of Pal anyway!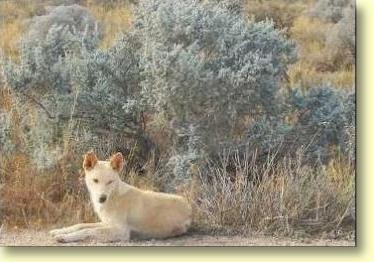 A Dingo near Nullarbor Roadhouse
Nullarbor Net Travel Tips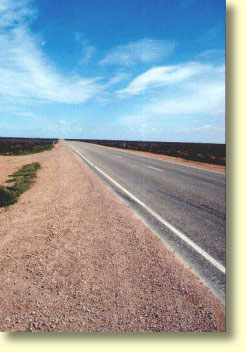 TRAVEL TIP: When crossing the Nullarbor and points further east or west it is always advisable to check on the opening hours of your next proposed refueling point. This is particularly true if your vehicle has a small fuel tank with limited range. And don't forget to take sufficient drinking water for yourself and any potential radiator problems that your vehicle may have.
The Road Goes on Forever......
Cycling across the Nullarbor is not without its hazards. In particular cyclists are advised to beware of cycling at night and to treat semi trailers with the caution they deserve. For those of you who are seriously into long distance cycling Nullarbor Net recommends you view the Australian Bicycle Camping Fact Sheets site by clicking on the the link below. Written by a hard core cyclist, for hard core cyclists, this site offers plenty of practical advice on how to avoid perishing of thirst, how to keep your carbohydrate intake up, how to avoid hazards like semi trailers, and more importantly what to do when the inevitable tyre puncture occurs!
.

For an alternative guide to riding around Australia check out the guys at The Riders of Oz. The Riders of Oz website has some useful tips for crossing the Nullarbor, everything you need to know about crossing the Nullarbor on your bike - and a couple of entertaining videos.