Norseman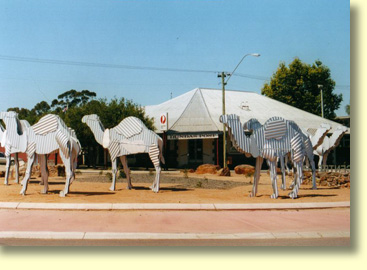 Norseman's Feral Metal Camels
Norseman is located 190 kilometres south of Kalgoorlie, 191 kilometres west of Balladonia, and 204 kilometres north of the Esperance coastline.
The history of Norseman is very much tied to gold mining. Gold mining in the Norseman area began with the chance discovery of gold at nearby Lake Dundas in 1892. A gold rush soon began. Today however the original Dundas fields now lay abandoned. According to local legend the town of Norseman was named after a horse. It is said that in 1894 a horse named "Hardy Norseman" was tethered to a tree for the night by its owner, Laurie Sinclair. Upon returning to his horse Sinclair had the good fortune to discover that "Norseman" had unearthed a gold nugget. Since then a statue has been erected in honour of Norseman - but not surprisingly it is only cast in bronze! Today Gold Mining continues to be a major activity with reports that the Norseman fields have produced over 5 million ounces of the precious yellow metal.
Norseman Facilities
Norseman has a population of about 1600 people and as you would expect for a town of this size it has a good range of facilities for the Nullarbor traveller.
Between Ceduna and Norseman - a distance of 1200 kilometres - you will find no other town with such comprehensive travel and shopping facilities. Norseman is therefore a recommended rest and refuelling stop.
Norseman has two 24 hour Roadhouses - BP and AMPOL. Both Roadhouses offer shower and rest facilities for the traveler. EFTPOS is also available and the AMPOL Roadhouse also sells pizzas. Norseman's Supa-Valu supermarket is open 8-30 am to 6 pm Monday to Friday, and 830 am to 5pm on Saturdays. Sunday hours are 930 am to 1 pm. EFTPOS facilities are also available at Norseman's supermarket, Roadhouses, and the ANZ Bank which is located on Roberts Street. A Commonwealth Bank agency also operates from the Dundas Post. Dundas Post's web site can be viewed at www.DundasPost.com.au.
Norseman Travel Bureau
Tourist information and local maps can be obtained from the Norseman Tourist Bureau which is located in Welcome Park. Noreseman's Travel bureau can also arrange travel and accommodation bookings both within Norseman and other areas of Western Australia. For further information contact the Norseman Tourist Bureau on (08) 9038 1071. Travelers should also note shower and barbecue facilities are available in the Welcome Park Tourist complex. A tourist information bay is also located at the junction of the Eyre and Coolgardie highways.
Norseman Accommodation
Within Norseman a range of accommodation is available to suit all budgets.
Norseman's Gateway Caravan Park is also located on Prinsep Street. The Gateway Caravan Park has air conditioned cabins, powered and unpowered sites aswell as a camp kitchen, kiosk and laundromat facilities. Pets are permitted when on a leash. For further information telephone (08) 9039 1500.
Norseman's Great Western Motel is located on Prinsep Street adjacent to the Ampol and Gateway Caravan Park. The Great Western Motel is a modern facility and has an in-ground swimming pool for the use of guests. For further information contact (08) 9039 1633.
Norseman Eyre Motel can be found on the corner of the Eyre and Coolgardie Highways. Norseman's Eyre Motel has 46 comfortable units with 3 price ranges for budget, standard and deluxe rooms. For further information telephone (08) 9039 1547.
The Railway Norseman Motel is located at 106 Roberts Street. The Railway Motel's accommodation options include motel style units aswell as hotel style rooms. Room rates for singles $30, en suite units $50 - pets allowed - and spa rooms for $80 per night. All rooms have a queen sized bed. The Norseman Railway Motel has the cheapest bar prices in town, a fully equipped gym and a four person spa. Prices are valid as at 25 May 09. For further information and bookings telephone (08) 9039 0003 or view The Norseman Railway Motel website. Alternatively email info@therailwaymotel.com.au
The Norseman Hotel is situated on Roberts Street. The Hotel is your typical Australian country pub and offers single, double and family rooms. Counter meals are available in the evening. For further information telephone (08) 9039 1023.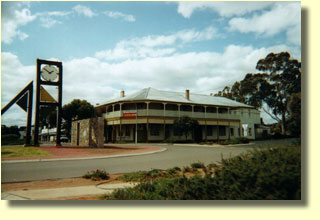 Norseman Hotel
Lodge 101 can be found on Prinsep Street and offers budget accommodation. Lodge 101 particularly caters for Backpackers and has kitchen and television facilities. A free pickup service also operates if prior bookings are made. For further information telephone (08) 9039 1541.
Norseman Attractions

Within the vicinity of Norseman there are a number of attractions of interest to the visitor. Overlooking Norseman is the Beacon Hill Lookout. From the top the visitor can take in some unique views of the surrounding countryside, salt lakes, the Norseman township, and a giant mine tailings dump. High altitiude views of the countryside are definitely a rare phenomenon on the edge of the Nullarbor. The Beacon Hill Lookout may not be "pretty", but it certainly is spectacular. To get there just take the Old Mines Road and follow the signs. The road is not particularly well signposted however, and is not really recommended for cars towing caravans.
32 kilometres to the south of Norseman is Bromus dam - a popular local swimming, camping and picnic spot. Bromus Dam would definitely be a suitable camp site for people traveling on a shoestring budget. 28 Kilometres to the east of Norseman is Buldania Rocks which is also another popular picnic spot, particularly in winter and spring when Australian wildflowers can sometimes be seen.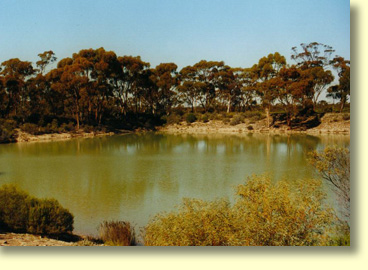 Bromus Dam
Gemstone fossicking permits can also be obtained from the Tourist Bureau. The Norseman area provides prospective gemstone enthusiasts with a chance of finding specimens of Moss Agate, Gold Lace Agate and Moss Opalite. Gemstone leases and directions can be obtained from Norseman's Tourist Bureau. Within Norseman itself there is a museum at the Old School of Mines. This may appeal to visitors with an interest in Australia's mining and pioneering history.
Norseman's Heritage trail is located near Lake Dundas and offers the visitor the chance to explore the bush and artefacts from the Dundas Goldfield's pioneering years. Dundas Rocks is located within the heritage area and provides good bush camping for the budget traveller.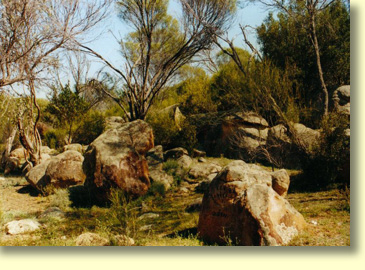 Dundas Rocks: Site Of An old Gold Mining Town
Fraser Range Station
100 kilometres east of Norseman travelers can visit Fraser Range Station. Fraser Range Station is a working pastoral property, producing fat tailed Damara sheep. Accommodation available includes single and double rooms, caravan and tent sites. Fraser Range may appeal to people desiring to see a remote working property at first hand.
Nullarbor Net Travel Tips
If you are travelling accross the Nullarbor in an easterly direction be aware that South Australia has a quarantine check point at Ceduna. Eat all your fresh fruit and vegetables before Ceduna or they will be confiscated.
Limited water supplies are available between Norseman and Ceduna so be sure to stock up before crossing the Nullarbor.
If you are heading west to Perth you have two options. Option 1 is via Kalgoorlie and would appeal to travellers with an interest in Australian mining history. A definitely more scenic route to Perth is via the Esperance and Albany coastline. This area has some of the best coastline in Australia and adds only a little extra to your journey.
Travellers anxious about fuel prices should check Western Australia's Fuel Watch site. This excellent site has regularly updated petrol, diesel and LPG prices for the WA Goldfields, the Perth metroplitan area, and other areas within the state. Nullarbor Net also recommends viewing the ExplorOz site for Western Australian and South Australian fuel prices. When travelling through remote areas such as the Nullarbor you can expect to pay upto 30% more than you would in major cities for a tank of fuel.
Cycling across the Nullarbor is not without its hazards. In particular cyclists are advised to beware of cycling at night and to treat semi trailers with the caution they deserve. For a site with heaps of practical advice for hard core cyclists check out the Australian Bicycle Camping Factsheets Guide to crossing the Nullarbor via the Eyre Highway. Cyclists should also note that in 2006 there was a race beginning at Norseman and ending in Ceduna, South Australia - a distance of 1200 kilometres. What a way to go!

A site for dedicated bicycle travellers
with practical information covering regional Australia