Poochera
Poochera is located 45 kilometres south east of Wirrulla and 34 kilometres north west of Minnipa. Streaky Bay is situated approximately 60 kilometres due west via a sealed road.
Poochera is a typical small grain belt town situated on the obligatory railway siding. The town itself was surveyed in 1920 and is named after a nearby hill.
For the uninitiated Poochera has a very obscure claim to fame. Poochera is home to the prehistoric ant named Nothomyrmecia macrops. Amongst entomologists this species of ant is considered a living fossil, the world's most primitive living ant.
Nothomyrmecia was originally discovered in 1931 near Balladonia in Western Australia. At the time Nothomyrmecia's discovery caused a great deal of excitement. The species was seen as living proof that ants had evolved from wasps. Embarrassingly however, further specimens were unobtainable as amateur naturalists from the 1931 expedition had failed to record collection sites for Nothomyrmecia.
The year 1977 saw Nothomyrmecia fortuitously rediscovered by Dr. Bob Taylor and a party of entomologists from Canberra. The story of Nothomyrmecia's rediscovery is a remarkable one, and it bears retelling here.
Spurred on by rumours that an American scientist was coming to search for the lost ant, Dr. Taylor apparently mounted one last ditch attempt to beat the Americans to the punch. By an incredible stroke of good luck - if it could be called that - Dr Taylor and his group were driving to Western Australia when their vehicle struck mechanical problems at Poochera. As we all know, even the best laid plans can go astray, and Dr. Taylor's expedition was forced to make an unscheduled stop, and camp for the night at Poochera.
Later that evening Dr. Taylor conducted an impromptu insect survey in the mallee scrub adjacent to camp. There's no doubt the last thing on Dr. Taylor's mind was Nothomyrmecia - after all, the last and only recorded sighting was made 46 years earlier, and even that was fully 1300 kilometres away to the west. Poochera was definitely the last place where Dr. Taylor expected to find Nothomyrmecia - but there it was, one solitary Nothomyrmecia worker ant crawling on a eucalyptus tree trunk.
The sight was truly astonishing. Dr. Taylor then rushed back to his colleagues and in true Australian style he announced to the world, "The bloody bastard's here! I've got the Notho-bloody- myrmecia!"
Today the Poochera Hotel is a favoured site for ant entomologists, at least during the southern hemisphere's winter and spring, when Nothomyrmecia is at its most active. Nothomyrmecia is considered a very rare ant, so much so that in international circles the International Union for The Conservation of Nature and Natural Resources (IUCN) rates this species as critically endangered.
Since the Poochera rediscovery one further Nothomyrmecia colony has been found at Penong, 180 kilometres away to the west. To date however, the fate of the original Western Australian population remains a mystery.
Poochera Facilities
Poochera is a small town with relatively limited facilities for the traveller. The town does have ample accommodation however, and this is available at the Poochera Hotel or Poochera Caravan Park. (Telephone 08 8626 3257). For the long distance traveller Poochera may well be provide a suitable rest stop after a hard day's journey.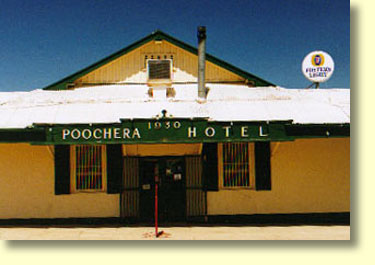 The Poochera Hotel
Situated on the main highway is the Poochera Mobil Roadhouse. Within the Roadhouse you will find a basic restaurant, take away food and petrol facilities. Generally Poochera Roadhouse is open between 7AM and 9PM, Monday to Saturday. Sunday opening hours are 8AM to 9PM. Opening hours can vary a little depending on the time of the year. Poochera Roadhouse also offers EFTPOS and basic postal facilities. A word of advice, Poochera may well be a good place to top up with fuel - particularly if your vehicle has a small petrol tank.
Poochera Attractions
If South Australia's outback is to your liking Poochera is within easy striking distance of the Gawler Ranges. For the Nullarbor traveller heading west, a highly recommended detour is to take the road to Streaky Bay. Streaky Bay is approximately 60 kilometres west of Poochera and is one of South Australia's more picturesque towns. This detour will add perhaps 40 kilometres to your Nullarbor crossing but the extra distance will be well rewarded. If you have just crossed the Nullarbor, the detour to Streaky Bay is best made from Ceduna.
Within Poochera itself some efforts have been made to set up a small local history museum. Whether this has been completed or not, I cannot say. For further advice we recommend you speak to Kevin or Margaret Quinn at the Poochera Roadhouse.