Kalgoorlie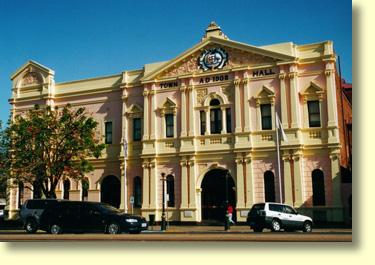 Kalgoorlie Town Hall (1908)
Kalgoorlie is located 40 kilometres east of Coolgardie, 595 kilometres east of Perth and 200 kilometres north of Norseman.
The traditional landowners of the Kalgoorlie area are the Maduwangka people and the name Kalgoorlie is said to mean "Silky Pear Bush" in the local aboriginal language.
European settlement of Kalgoorlie began in June 1893 with the discovery of rich alluvial gold deposits near Mount Charlotte. The three Irish gold prospectors credited with the discovery were Paddy Hannan, Dan Shea and Tom Flanagan. Paddy Hannan later reported discovering 8 pounds of gold nuggets to the mining warden in Coolgardie, and within a matter of days 700 gold diggers were frantically pegging out mining claims around Kalgoorlie. Kalgoorlie's gold rush had begun and by 1903 the town boasted a population of 30,000, along with 93 hotels and 8 breweries.
For Kalgoorlie's pioneering gold diggers the pickings were rich indeed, but if the pickings were rich, so too were the costs of essential miner's supplies. Early reports of the time indicate that Kalgoorlie's miners were forced to live on overpriced "tinned dog" - a commonly eaten but universally detested canned meat product. For the digger even basic foodstuffs such as flour were extravagantly priced. At the time Kalgoorlie's wholesale price for flour was 120 pounds per ton whilst the going rate in Perth was a mere 10 pounds. Water too was almost more precious than gold. Chronic water shortages allowed owners of water desalination plants to sell water for anywhere between 6 pence and one shilling and sixpence per gallon. It was little wonder then, that many diggers died of typhoid - the inevitable result of drinking contaminated water.
By the late 1890s Kalgoorlie's rich alluvial gold deposits had been largely worked out. With the discovery of deep gold reefs and rich telluride minerals at nearby Boulder the age of the independent digger soon drew to a close.
1897 saw the Kalgoorlie Boulder gold fields riding the crest of an investment wave largely financed by British speculators. The stage was set for the creation of a highly capitalised modern gold mining industry. Literally hundreds of companies were floated, fortunes were won and lost, and for many years Kalgoorlie's metallurgists led the world in developing commercial treatments of gold bearing ores.
By 1902 deep underground mining of gold leads had become the norm with the Great Boulder Mine continuing to discover payable gold 1500 feet below the surface. Later Boulder Mining leases came to be known as "The Golden Mile" and by all accounts this area contained the richest square mile of gold reserves in the world.
Today the Golden Mile continues to be actively worked by Kalgoorlie Consolidated Gold Mines. During the past 20 years the use of modern open cut mining technologies has seen the Golden Mile transform itself into a Super Pit. Current dimensions of the "Super Pit" are 290 metres deep by 1.5 kilometres wide and 4 kilometres long. At current extraction rates KCGM has proven reserves that should last beyond the year 2013 - by which time the Super Pit will have expanded considerably.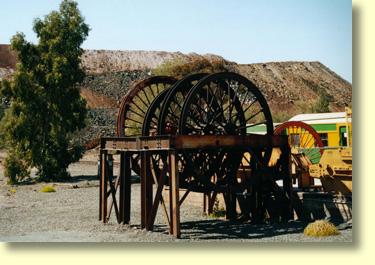 Old Mining Equipment and Mullock Heaps
Kalgoorlie Goldfields Visitor Centre
When visiting Western Australia's Goldfields Nullarbor Net recommends your first port of call should be the Kalgoorlie Goldfields Visitor Centre. The Goldfields Visitor Centre has 2 branch offices, one naturally enough located in Kalgoorlie, and the other in nearby Boulder. From the Kalgoorlie Goldfields Visitor Centre travellers can obtain a free copy of the Kalgoorlie Boulder visitors guide and map. This brochure will definitely be an indispensable aid in helping you navigate your way about town. Marked on the map are a number of business services and all attractions that would be of interest to the traveller. Opening hours for the tourist information bureaus are 8-30am to 5 pm Monday to Friday, and 9am to 5pm on weekends. The main Kalgoorlie Branch of the Goldfields Visitor Centre is located on 250 Hannan Street, telephone (08) 9021 1966; and likewise the Boulder Office can be found at 106 Burt Street, contact telephone (08) 9093 1083. Alternatively telephone Freecall 1800 001 880. For further information send an email to visitors@kalgoorlie.com.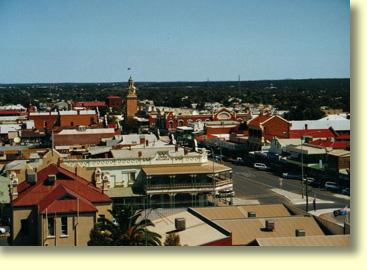 View over Hannan Street
Transport - W.A. Goldfields
Kalgoorlie is definitely well served by an extensive network of bus, rail and air services linking through to Perth, the eastern states, Esperance and other points in south western australia. .
Bus Services
Goldrushtours operates a weekly service between Kalgoorlie and Laverton. For further information telephone Freecall 1800 620 440 or (08) 9092 6000. Timetable information can be viewed at www.goldrushtours.com.au. Golden Lines Bus Service operates the local Kalgoorlie-Boulder bus network with an added daily service to nearby Coolgardie. Info contact for Golden Lines bus service is (08) 9021 2655. Alternatively you can email Goldrush Tours at info@goldrushtours.com.au
Rail Services
Westrail operates the newly upgraded Prospector train service which links Perth to Kalgoorlie several times a week and the journey takes about 6 hours. Westrail's booking office is located in Forrest Street Kalgoorlie and reservations can be made by telephoning 131053. Further details about the Prospector train service can be viewed at the Trans WA website. Please note that Transwa also operates a coach service between Kalgoorlie and Esperance, and that further coach connections are available linking Esperance through to Perth. For those of you crossing the Nullarbor, the Indian Pacific Rail service may well be a transport option. Stopovers can be made in Kalgoorlie and Nullarbor Net suggests you consider doing this for a couple of days or so. Reservations for the Indian Pacific service can be made by telephoning Great Southern Railways on 132147. Reservations can also be made in most Australian capital cities. For further information email salesagent@gsr.com.au or check out the Indian Pacific web site at www.gsr.com.au.
Air Travel
Kalgoorlie is well served by air routes with connections through to Perth and other points in Western Australia. Both Qantas and Skywest operate into and out of Kalgoorlie. Services operate most days of the week and the airport is located 7 kilometres from the centre of Kalgoorlie. If you are in Kalgoorlie bookings can be made at the Kalgoorlie Goldfields Visitor Centre which is now located in the Town Hall. Alternatively bookings can be made through Kalgoorlie's Flight Centre which is located on Hannan Street. Kalgoorlie's Flight Centre can be contacted on (08) 9091 1999. For out of town visitors you can also make bookings at www.skywest.com.au or www.qantas.com.au.
Kalgoorlie Backpackers Accommodation
Goldfields Backpackers is located on 166 Hay Street and has dormitory, twin share and single accommodation. Barbecue, swimming pool and pool room facilities are available. Goldfields Backpackers is open 24 hours a day, offers free transfers and VIP/YHA and Nomads discounts. Internet facilities are available 24 hours a day. Email goldbpak@gold.net.au.
Gold Dust Backpackers is located on 192 Hay Street Kalgoorlie and offers dormitiry, twin share and single accommodation. Barbecue, swimming pool and games room facilities are provided. Gold Dust Backpackers offers free bike hire, free transgfer facilities and VIP/YHA discounts. Internet facilities are also available. For free pick up telephone (08) 9091 3737. Email contact golddust@aurum.net.au.
Kalgoorlie Caravan Parks and Self Contained Accommodation
Boulder Accommodation Village is located on 201 Lane Street in Boulder. Within the village visitors will find grassed camp sites, caravan sites and a number of self contained swiss style family chalets. Facilities include a salt water swimming pool, playground and internet access. Dogs permitted in your own van. Telephone (08) 9093 1266 or Freecall 1800 01266. Email boulder@bestonparks.com.au. Web site information can be found at www.bestonparks.com.au.
Kalgoorlie Accommodation Village is located on 286 Burt Street in Boulder. Camp sites, caravan sites, self contained swiss family chalets and self contained park cabins are provided for travelers. Facilities include a garden with barbecues. A supermarket is located nearby. Please note no dogs are allowed. Telphone (08) 9039 4800 or Tollfree call 1800 004 800. Email kalgoorlie@bestonparks.com.au. Web site information can be found at www.bestonparks.com.au.
Big 4 Prospector Holiday Park is located on the Great Eastern Highway in Kalgoorlie. Camping sites, caravan sites, and self contained famil and budget cabins are available. Facilities include a camp kitchen, swimming pool, playground and TV room. No dogs permitted. The Prospector Holiday Park also offer travellers the use of a cassette tapes for self drive tours of Kalgoorlie. Telephone (08) 9021 2524 or Tollfree 1800 800 907. Email contact prospect@iinet.net.au.
Goldminer Caravan Park is located on the corner of the Great Eastern Highway and Atbara Street in Kalgoorlie. Camp sites, onsite budget vans, ensuite caravan sites, park cabins and chalets are available. The owners are on site 24 hours a day. Barbecue and kiosk facilities are available. Telephone/Fax (08) 9021 3713.
Golden Village Caravan Park is located on 406 Hay Street in Kalgoorlie. Traveler's accommodation options include camp sites, caravan sites, budget vans and park homes. Facilities include a swimming pool and the caravan park is located close to a cycle way and parklands. For further information please telephone (08) 9021 4162 or Fax (08) 9021 1211.
Kalgoorlie and Boulder Goldfields Hotels and Motels
Kalgoorlie Boulder has a large number and variety of Hotel/Motel facilities. Prices can range from four star to budget accommodation. Nullarbor Net suggests you contact the Kalgoorlie Boulder Travel Centre for a full list of accommodation options. Email visitors@kalgoorlie.com.
Kalgoorlie Attractions
WA Museum of Kalgoorlie - Boulder - 17 Hannan Street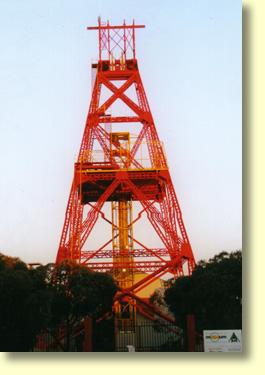 The Old Ivanoe Mine Head
The Kalgoolie - Boulder Museum
For those of you who enjoy museums, Nullarbor Net definitely recommends a visit to the Kalgoorlie-Boulder Goldfields museum. Located at the top end of Hannan Street the museum is open daily from 10am to 4-30 pm. The entrance to the museum is impossible to miss, marked as it is by a huge headframe from the Old Ivanhoe mine. Entry is by donation and for family and school groups the museum represents possibly the best value on the goldfields. Highlights from the museum include displays of restored miner's cottages, a large chunk from the Mundrabilla meteorite, fine examples of union tapestries, historical memorabilia and an extensive photographic collection covering Kalgoorlie's early social history. Unusual exhibits include an early prospector's wooden bicycle, and within the gold vault a collection of gold nuggets and early federation period jewellery pieces can be observed. Visitors can also obtain good views of Kalgoorlie from the viewing platform of the Old Ivanhoe Headframe. For any "pubophiles" out there, the British Arms Hotel is also located within the museum and it's said to have been the smallest pub in Australia. All in all this museum really is an excellent display and definitely well worth visiting for a couple of hours or so.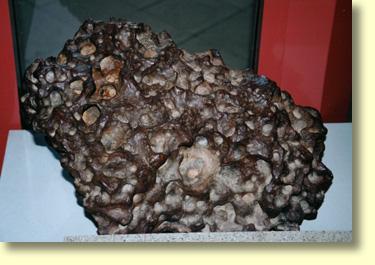 Mundrabilla Meteorite Exhibit
Kalgoorlie-Boulder's Historic Buildings
Residents of Western Australia's Goldfields are justifiably proud of their rich architectural heritage. Dotted throughout Kalgoorlie-Boulder are a host of old miner's cottages and heritage buildings dating from Australia's federation period of architecture - the late 1890s to early 1900s. Not surprisingly for a gold mining town many of the finest examples of federation architecture include lovingly restored hotels.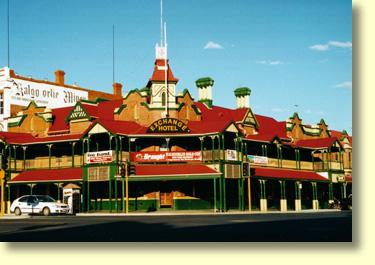 Perhaps Australia's Most Photographed Pub
Kalgoorlie's main thoroughfare is Hannan Street and here visitors can view a number of fine old buildings such as the Exchange Hotel, Palace Hotel, the Old Australia Hotel and the York Hotel. Important civic buildings within the area include Kalgoorlie's Town Hall which dates from 1908, and the School of Mines Bulding located on nearby Cassidy Street.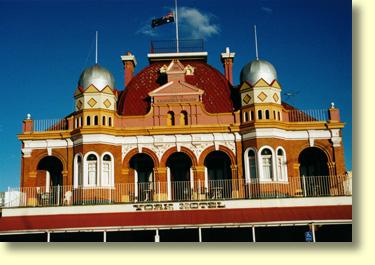 The York Hotel
Attractions within nearby Boulder include the historic Court Hotel and Boulder Townhall which dates from 1908. Within Boulder's Town Hall visitors can discover ornately pressed tin ceilings and wrought iron balaustrading styles typifying early goldfield architectural styles. An added attraction within Boulder's Town Hall is the Goatcher Stage Curtain which is on display every wednesday between 10am and 3 pm. Goatcher's curtain was painted by the world famous theatre artist Phillip Goatcher. According to all accounts this remarkable artwork is said to be the last surviving Goatcher stage curtain in the world. Both the Boulder Town Hall and Court Hotel are located on Burt Street - central to Boulder's main shopping district.
The Super Pit - Outram Street turnoff from the Goldfields Highway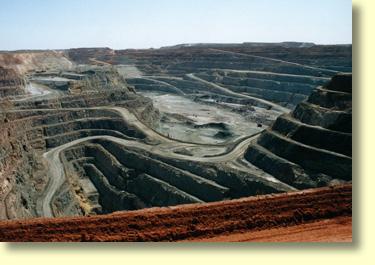 The Kalgoorlie Boulder Super Pit
The Kalgoorlie-Boulder Super Pit is definitely one of the goldfields outstanding attractions. Although really nothing more than a hole in the ground, it is nevertheless a huge and expensive one by any standards. During the past 100 years this goldfield has produced over 1000 tonnes of precious metal, and not for nothing has it been recognized as the richest square mile on earth. In terms of output the "Golden Mile" ranks second only the vastly more extensive Rand Goldfields of South Africa, and Canada's Porcupine mine. A point to ponder: Nullarbor Net suggests the next time you're in the market for a wedding ring spare a thought for the guys working in the Super Pit!
Access to the Super Pit viewing platform is made by taking the Outram Street turnoff from the Goldfields Highway. Admission is free and opening hours are from 6am to 7pm daily. It's best to take photographs of the Super Pit in the middle of the day - at other times shadows can obscure large areas of the mine. Visitors might be also interested to check with the Kalgoorlie Visitors Information Centre for daily blast times.

Haul Trucks carry 200 tons per load
School of Mines Museum - Cassidy Street Kalgoorlie
The WA School of Mines Museum will definitely appeal to those of you with a keen interest in geology and mineralogy. This museum houses a collection of approximatel 3000 mineral specimens along with replicas of famous gold nuggets. The School of Mines Museum is located on the corner of Cassidy Street and McDonald's Street in Kalgoorlie. Opening hours are 8-30am to 12-30 pm Monday to Friday. Please note the museum is closed for public and school holidays. Admission is free. For further information please telephone (08) 9088 6001.
Boulder Loopline Tourist Railway - Boulder Railway Station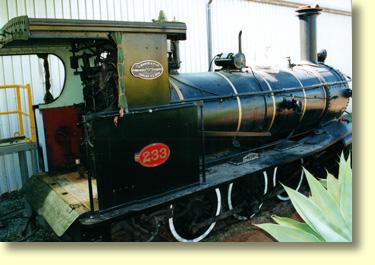 Stationary Exhibit At The Loopline Railway
For a short diversion of an hour or so Boulder's Loopline Tourist Railway might prove to be of interest to travellers. Boulder's Loopline Railway was established in 1897 and for many years it served as transport for miners who needed to commute between Boulder and the Golden Mile. Exclusive to the Loopline Railway tour is a visit to the Old Chaffers Power Station where visitors can also view displays of old gold mining machinery. The return journey to Boulder Railway Station sees the train make a short detour to the Super Pit. Throughout the journey a taped commentary details much of the colourful and seedy social history of the Golden Mile. Within Boulder Railway Station itself are a number of interesting displays of gold mining memorabilia. Boulder's Loopline Railway tour would be of interest to both railway buffs and those with an interest in Western Australia's Gold Mining history. Adjacent to the Railway station is a pleasant picnic area and playground suitable for the use of children.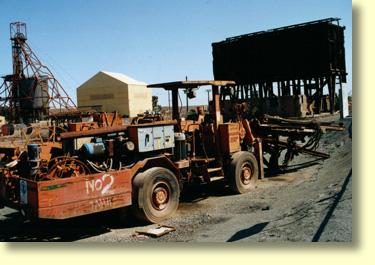 Old Drilling Equipment at Chaffers Power Station
Boulder's Railway Station is located at the top end of Burt Street and tours depart daily at 10 am. On Sundays extra services depart at 11-45 am. Admission to the tour costs $27-50 for families, $9-90 for adults, $7-70 for pensioners and $5-50 for children. (Prices valid as at October 2001). For the most up to date information please email mail@loopline.com.au or telephone (09) 9093 3055. Alternatively just visit the Loopline Railway's website.
Boulder Pharmacy Museum - 46 Burt Street Boulder
Boulder's Pharmacy Museum is located within a chemist shop that has been continuously operating for over 100 years. The museum's collection includes a vast array of medicines and original pharmaceutical bottles dating from the 19th century. Essential medical tools dating from the period are also on display. If you find this display interesting we recommend you pay a visit to Coolgardie's Pharmacy museum. Boulder's Pharmacy museum is open from 8-50 am to 5-30 pm Monday to Friday, and 8-50 am to 12-30 pm on Saturdays.
Goldfields War Museum - 106 Burt Street Boulder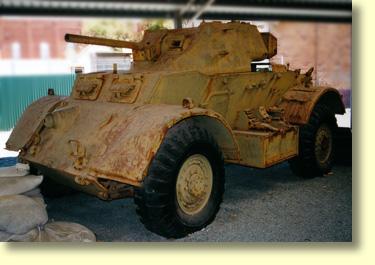 Boulder War Museum Armoured Car Display
Military history enthusiasts will definitely find the Goldfields War Museum worth a visit for an hour or two. Exhibits within the museum include a large number of armoured vehicles, weapons, uniforms and an extensive collection of wartime relics and memorabilia. Of particular interest is the photographic collection which documents the widespread participation of the Goldfields community in every campaign from the Boer War to Vietnam. Other displays include a large number of moving letters written by Australian soldiers to their loved ones, with many of the detailing the daily hardships of a soldier's life. Opening hours for the museum are 10 am to 4 pm Monday to Friday, and 10 am to 2 pm on weekends and public holidays. Co-located with the war museum is the Boulder Branch of the Tourist Information Centre. For further information please contact (08) 9093 1083.
Gold Prospecting - Wherever You're Lucky To Find It
Western Australia's Goldfields are popular haunts for gold fossickers. These days casual fossickers resort to high tech metal detectors when searching for gold lying near the surface. When prospecting for gold a miner's right is essential as this permits the holder to prospect on vacant crown land. It is also possible to prospect on pastoral leases and mining claims with the permission of the leaseholder or tenement holder. Always request permission however, and be prepared to accept no for an answer, otherwise you might find yourself in trouble. For further information on Miner's Rights we recommend you contact the Western Australian Department of Minerals and Energy. For local advice we recommend you visit International Lapidary which is located at 67 Hannan Street in Kalgoorlie. International Lapidary stocks Minelab metal detectors and can be contacted n (08) 9021 3017.
Nullarbor Net Travel Tips
Fuel conscious motorists will appreciate viewing Fuel Watch for regularly updated petrol, diesel and LPG prices on the Western Australian Goldfields. This site is regularly updated and covers the Perth metropolitan area along with most country areas within the state. Also well worth a look is ExplorOz's fuel price pages for Western Australia and South Australia. In the interests of travellers Nullarbor Net encourages people to take the time to update these pages.