Madura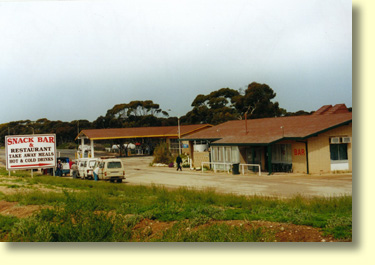 Madura Roadhouse
Madura is located 91 kilometres east of Cocklebiddy and 115 kilometres west of Mundrabilla.
Originally Madura was settled as a pastoral homestead in about 1876. Madura's early history is rather sketchy, however for many years the area was well known for producing quality polo and cavalry horses for the British Imperial Indian Army. At the time these fine stock horses were employed in various British campaigns on India's rebellious Northwest Frontier. Later known as "Walers", these horses were bred at Madura by an ex-Army Officer who overlanded them to Eucla for shipment to foreign ports. During World War 2 Madura was a site of importance to Australian Army engineers who were intent upon upgrading what is now known as the Eyre Highway. At the time Madura was the only known site with free flowing bore water throughout the Eucla artesian basin. To obtain this supply the Western Australian Government financed the drilling of a borehole to a depth of over 300 metres. Whilst Madura's brackish water supply was perfectly suitable for grazing stock, it nevertheless needed to be desalinated for human consumption. Today the Madura area continues its traditional pastoral activities - mainly sheep - and Madura Roadhouse provides Nullarbor travellers with a pleasant rest and refuelling stop.
Madura Accommodation and Facilities
Madura Roadhouse is scenically situated at the base of the Hampton Tablelands. Within the Roadhouse complex travellers will find an establishment complete with motel, swimming pool, licensed restaurant, caravan park and camping facilities. Madura Roadhouse also provides the traveller with take away foods and has a well stocked bar selling a wide range of bottled beers - including my favourite, "Redback." EFTPOS facilities are also available within Madura Roadhouse and opening hours are 6-30AM to 10-00 PM Monday to Saturday. Sunday hours are 6-30 AM to 9-00 PM. Travelers should note Madura Roadhouse sells LPG Gas and Super Grade fuel additives.

Madura Budget Room Accommodation:
Budget Rooms Singles $80-00
Budget Rooms Doubles $90-00
Budget Rooms 3 people $105-00
Budget Rooms 4 people $120-00
Budget Rooms 5 people $135-00
Budget Rooms 6 people $165-00

Madura Motel Room Rates:
Single Person Room $110-00
2 Person Rooms $130-00
3 Person Rooms $148-00
4 Person Rooms $165-00
Madura Caravan Park Rates:

Powered Caravan Sites $25-00 for 2 people
Unpowered sites $15-00 for 2 people

For further information and bookings telephone Madura on (08) 9039 3464.
Prices valid at March 2015


Madura Attractions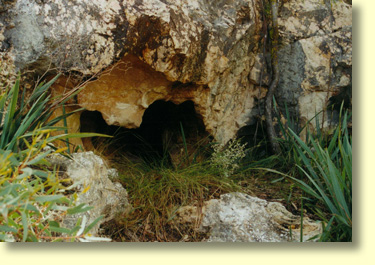 Small Blowholes


Madura is definitely one of the Nullarbor's more pleasant roadside stops. Two kilometres or so west of Madura you will find a scenic lookout situated on the Hampton Tablelands. This lookout is well signposted and located just a few metres north of the Eyre Highway.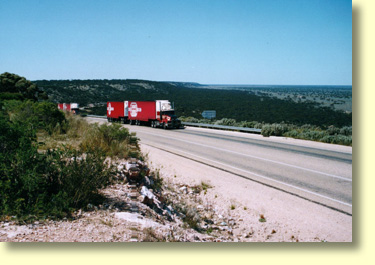 View From Madura Lookout

Travellers can expect to see sweeping views of Madura Pass and the Roe Plains. Whilst at the lookout it might be worth pondering that between 15 and 45 million years ago sea levels repeatedly advanced and retreated in this area of the Nullarbor. Both the Hampton Tablelands and Roe Plains are landforms representing changing sea levels caused by the advance and retreat of ice ages, and associated geological uplift processes. Opposite Madura Roadhouse travellers can also find a small road that leads to a number of small blowholes. Just follow the road and look carefully for a rather nondescript red marker on the left side of the road. These blowholes are not exactly spectacular, but they might provide an interesting short diversion on your journey. If you are seriously interested in blowholes, Nullarbor Net suggests you take the time to view Caiguna Blowhole which is located about 5 kilometres west of Caiguna Roadhouse.

Nullarbor Net Travel Tips
If you are travelling across the Nullarbor at night be aware that the nearest 24 hour fuel services are located at Border Village 189 kilometres to the east and at Caiguna Roadhouse 147 kilometres to the west.